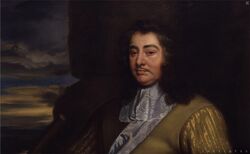 George Monck was an English general who was instrumental in the Restoration of the Stuart monarchy in 1660. After having fought in Ireland, Scotland, and the First Anglo-Dutch War, Monck was appointed Governor of Scotland.
Monck was part of the Parliamentary government installed by Oliver Cromwell and fought for them. However, after Cromwell's death, he took advantage of the Parliament's weak authority and of the confusion in London. On January 1, 1660, his army marched from the Scottish border towards London. Monck used his military power to stabilize the city.
The new Parliament proclaimed Charles II as the new king of England, and Monck traveled to Dover, Kent, to greet the new sovereign upon his return to the country, on the morning of May 25, 1660. From Dover, the new king marched toward London to secure his throne.
Ad blocker interference detected!
Wikia is a free-to-use site that makes money from advertising. We have a modified experience for viewers using ad blockers

Wikia is not accessible if you've made further modifications. Remove the custom ad blocker rule(s) and the page will load as expected.