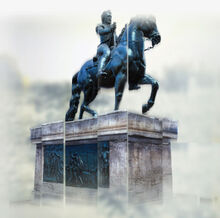 The original horse was cast in Florence and shipped to Paris in 1614 to await its king. The stallion stood riderless upon its pedestal for 21 years and was referred to by the Parisians simply as "the bronze horse." At last the rider was made, Henri IV, the Protestant king, who, before taking the crown survived the Saint Bartholomew's Day Massacre. To stabilize his throne, he converted to Catholicism, possibly uttering the apocryphal remark: "Paris is worth a mass." Although much beloved by his people, he was assassinated while riding in his carriage by religious fanatic François Ravaillac in 1610. During the Revolution, the spot on which his statue stands was used as a meeting point and even as a recruiting office for volunteers willing to fight the Prussians.
Ad blocker interference detected!
Wikia is a free-to-use site that makes money from advertising. We have a modified experience for viewers using ad blockers

Wikia is not accessible if you've made further modifications. Remove the custom ad blocker rule(s) and the page will load as expected.