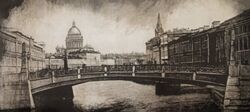 Saint Petersburg is the second-largest city in Russia, located on the Neva River, at the head of the Gulf of Finland on the Baltic Sea. It was named Petrograd during the Russian Revolution, before it was renamed Leningrad in 1924, until 1991, when its old name was restored. It was founded by Tsar Peter the Great in 1703 and was the capital of Russia during long periods after the reign of Peter the Great. It is often considered the cultural capital of Russia, and homes many museums, consulates and businesses. It was the epicenter of the Russian Revolution, since the Tsar and his family were arrested there.
Ad blocker interference detected!
Wikia is a free-to-use site that makes money from advertising. We have a modified experience for viewers using ad blockers

Wikia is not accessible if you've made further modifications. Remove the custom ad blocker rule(s) and the page will load as expected.