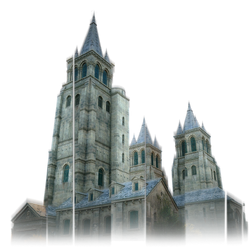 Prior to the revolution, St-Germain-Des-Prés was a popular area for nobility to have their country houses and the town's abbey was one of the richest in France. The site's first church was raised in the year 558.
The Revolution effectively turned the abbey from church into storehouse, and 15,000 tons of gun powder were stockpiled in the refectory. Perhaps inevitably, an explosion destroyed part of the former abbey in August 1794.
Not that this prevented it from becoming the "Prison de l'Abbaye" where some of the most atrocious massacres would take place in September 1793. *
--
* Our senses of linear time, perhaps inevitably, exploded when Abstergo couldn't be bothered to fact-check their database.