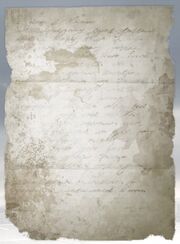 Dear Mother,
Just wanted to let you know that we've arrived at Loos, way at the top of France. We're not making jokes about the name now that we're here and everyone is very nervous while we wait for the order. Everyone tells such grim stories and every day you hear something worse. I think you are right and that it was a very silly thing to do, coming here and lying on the form like that. But if you tell everyone that I'm only seventeen and that I should be sent home, everything will be all right. Ask Reverend Farrell and he can talk to the right people because I'm really not supposed to be here and I want to come back.
All my love, Francis.
(Private Francis Kelly was reported missing a week later. His body was never recovered.)
Ad blocker interference detected!
Wikia is a free-to-use site that makes money from advertising. We have a modified experience for viewers using ad blockers

Wikia is not accessible if you've made further modifications. Remove the custom ad blocker rule(s) and the page will load as expected.