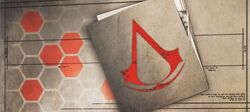 Nicholas had remembered Orelov from the train attack. The Assassin will spare him and his kin once more. Trust made the Tsar admit that a part of the Staff might still exist. Grigori Rasputin wore a splinter of the Staff around his neck, he said. Orelov had found his next mission all by himself. Not for the Order, not for Russia, but to get rid of the accursed power that had almost destroyed him.
Ad blocker interference detected!
Wikia is a free-to-use site that makes money from advertising. We have a modified experience for viewers using ad blockers

Wikia is not accessible if you've made further modifications. Remove the custom ad blocker rule(s) and the page will load as expected.