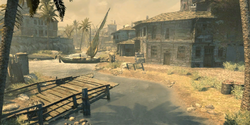 The river Lycus flows southeast across Constantinople's main peninsula, cutting a straight valley between the first six hills to the east and the large Seventh Hill to the west. The Lycus is notable for the fact that the final 2000 meters of the river flow underground before dumping into the Harbor of Theodosius on the southern edge of the city.
Ad blocker interference detected!
Wikia is a free-to-use site that makes money from advertising. We have a modified experience for viewers using ad blockers

Wikia is not accessible if you've made further modifications. Remove the custom ad blocker rule(s) and the page will load as expected.