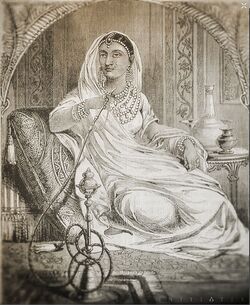 Originally named Manikamikka at birth, Lakshmi Bai was born circa 1828 in the city of Varanasi. She grew up in a Maharashtrian Brahmin family and, unusually, was educated and trained in martial arts and sword fighting. At a young age, she married the maharaja of Jhansi, Gangadhar Rao. However, her husband died without leaving a surviving heir. Just before her husband passed away, according to formal Hindu tradition, Lakshmi Bai adopted a boy so that there could be an heir to her husband's throne.
The British governor general of India, Lord Dalhousie, refused to recognize the adopted heir and immediately annexed the territory of Jhansi, justifying his decisions in accordance with the Doctrine of Lapse. Lakshmi Bai was required to leave the palace of the queen, the Rani Mahal, and depart from the town. However, the queen of Jhansi refused to cede the territory to the British and declared "Mi Maghi Jhansi Nahi Denar", meaning "I won't give up my Jhansi". At the outbreak of the Indian rebellion in 1857, she became an important figure in the uprising against the British. She organized troops and assumed military duties against British forces in the Bundelkhand region.
After several weeks of fighting, the British captured the fort of Jhansi, but Lakshmi Bai managed to escape and join other rebels. They mounted an attack on the city-fortress of Gwalior, where Lakshmi Bai fought dressed as a man with her adopted son strapped on her back. She aggressively battled the British troops until a stray bullet mortally wounded her.