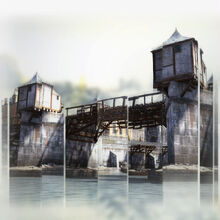 The Pont Marie was named after its engineer, Christophe Marie (and not the Holy Virgin), who appealed to Henry IV to build a double wooden bridge across Ile Saint-Louis. Despite Henry's assassination, the project continued; the bridge would later be renovated in stone. The enterprising Marie completed his assignment after collecting 20 years of toll charges. He was also tasked with creating the quays that encircled the island and plotting its streets. The first stone of the north bridge was laid on October 11, 1614, and would be completed in 1630. In 1658, part of the bridge and the houses built atop it were destroyed by a flood, an all-too-common disaster in Paris at the time. About the time of the Revolution, the last remaining houses were demolished.
Ad blocker interference detected!
Wikia is a free-to-use site that makes money from advertising. We have a modified experience for viewers using ad blockers

Wikia is not accessible if you've made further modifications. Remove the custom ad blocker rule(s) and the page will load as expected.