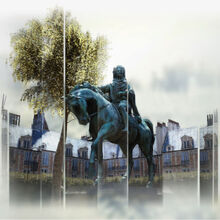 The square was originally named the Place Royale by Henry IV, who oversaw the design of its 36 pavilions. The king had requested perfect symmetry, four arcades and two rows of high windows for each pavilion. The square obliterated the field where, some decades before, Henri II had suffered a mortal wound in a jousting tournament and died in a building nearby. With the advent of the Revolution, it was no longer acceptable to carry a name honoring royalty, and the square underwent several name-changes before, in 1792, settling upon a name to honor the regiment of volunteers from the Vosges who came to save the Republic.*
--
* Since the historian doesn't want to be specific about what the Republic was saved from, I'm going to let you pick your preference from the following list: Austrians, Martians, Zombie Hordes.
Ad blocker interference detected!
Wikia is a free-to-use site that makes money from advertising. We have a modified experience for viewers using ad blockers

Wikia is not accessible if you've made further modifications. Remove the custom ad blocker rule(s) and the page will load as expected.