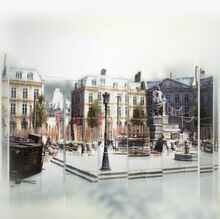 Louis XIV purchased the existing hôtel Vendôme and a part of the convent des Capucines to embellish the city and facilitate traffic ... and provide a setting for a statue of himself dressed as a Roman emperor. Louis XIV also profited financially by selling the land behind the housefronts (which the king had financed). All the prominent financiers bought in. These buyers represented the cream of Parisian high society. They were followed by the more modest tenants of the attic apartments, such as Vigny. The statue of Louis XIV in Roman attire was inaugurated on August 13, 1699 for his birthday. It was hacked down in August 1792 to make cannons.*
--
* Hacking down statues of kings to make artillery is actually a storied tradition - the Americans did it to New York's statue of George III during the American revolution as well.
Ad blocker interference detected!
Wikia is a free-to-use site that makes money from advertising. We have a modified experience for viewers using ad blockers

Wikia is not accessible if you've made further modifications. Remove the custom ad blocker rule(s) and the page will load as expected.