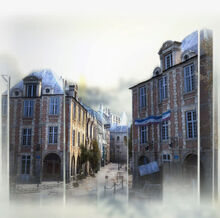 In 1601, Henri IV announced that a public square (triangular in fact) would be created and given to the first President of the Parliament, Achille de Harlay, who had remained loyal to Henri during the Wars of Religion. Harlay divided the square, situated away from the traffic on the bridge, into twelve lots in 1608. The houses built were rented by artisans, tailors, printers, booksellers and officers of the nearby Palais de Justice.
Up until 1633, one of the main attractions of this square, then a clutter of little houses, was the trestle stage used by the famous Parisian farceur Tabarin (Antoine Girard), who put on short, Italian-style performances with his brother and their little theater troupe. His motto was: "The world is merely deceived by charlatans."
"Acting the tabarin" ("faire le tabarin" in French) became a proverb.*
--
* That literally no one has ever used.
--
Ad blocker interference detected!
Wikia is a free-to-use site that makes money from advertising. We have a modified experience for viewers using ad blockers

Wikia is not accessible if you've made further modifications. Remove the custom ad blocker rule(s) and the page will load as expected.