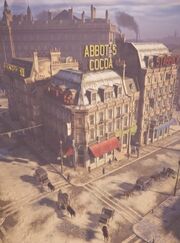 This landmark junction, now a festival of lights and advertisements, had very humble origins as a connecting point between three different sections of Regent Street. Piccadilly Circus was constructed in 1819, and derives its name from Pickadilly Hall, home of the famous seventeenth-century tailor Robert Baker, located nearby. Baker's specialty was the pickadilly, a frilly collar at the height of fashion, especially in the 1620s.
Personally, I think the frilly pickadilly is due for a comeback. Make it so, hipsters.
Okay, one thing I must make clear is that there was never an actual circus at Piccadilly Circus. No clowns, no animals, no eight-fingered wranglers. Circus here refers to the fact that the junction was once a circle, but the shape of Piccadilly changed in the 1880s, when Shaftesbury Avenue was created and cut through the circle.
Ad blocker interference detected!
Wikia is a free-to-use site that makes money from advertising. We have a modified experience for viewers using ad blockers

Wikia is not accessible if you've made further modifications. Remove the custom ad blocker rule(s) and the page will load as expected.