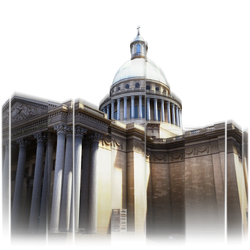 In 1744, King Louis XV vowed that if he recovered from smallpox, he would replace the ruined church of the Abbey of Sainte Geneviève with a new one. He recovered, and construction on the Pantheon began in 1755 and it was completed in 1780. The building stands 60 meters above the Seine, and is the high point of Paris' left bank.
Although the building began as a church, it has changed hands several times over the years, from church to state. In April 1791, the remains of Mirabeau were placed here—turning the building into a sort of secular mausoleum. Later, when his secret correspondence with the king was revealed, Mirabeau's remains were removed.*
--
* I bet he was livid. In fact, if he'd still had a grave, he'd probably have been spinning in it.
--
Today the building houses the bodies of some of France's greatest heroes—including Voltaire, Marie Curie, Victor Hugo.
Ad blocker interference detected!
Wikia is a free-to-use site that makes money from advertising. We have a modified experience for viewers using ad blockers

Wikia is not accessible if you've made further modifications. Remove the custom ad blocker rule(s) and the page will load as expected.