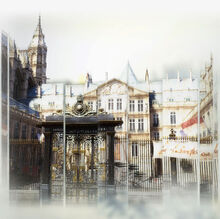 This ancient and ornate building that overlooks the Tour de l'Horloge with its elaborate clock featuring figures of Justice and Law, was initially built in 1296 by Philip IV of France, in spite of his financial worries. It was here that he consolidated the dispensation of justice, although the judges soon came to be infamous for their corruption. During the Revolution, the Palais housed the much-feared Revolutionary Tribunal.
Ad blocker interference detected!
Wikia is a free-to-use site that makes money from advertising. We have a modified experience for viewers using ad blockers

Wikia is not accessible if you've made further modifications. Remove the custom ad blocker rule(s) and the page will load as expected.