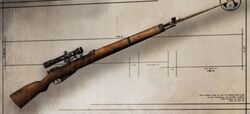 Orelov wields a modified Berdan rifle, customized by an old friend named Fedor Tokarev. Inspired by the works of American inventor Hiram Percy Maxim, he created a unique suppressor for Orelov, but warned him about possible loss of power. He also modified the gun to use 7.62mm cartridges now in use in the Russian army, using mostly Mosin-Nagant models. As a result, Orelov's rifle is strangely silent, while not completely, and still quite powerful at short and middle range. From Tokarev's own words, the system may be tweaked and tested, so chances are that Orelov himself can find better positions or attachment devices to increase the efficiency of the silencer.
Ad blocker interference detected!
Wikia is a free-to-use site that makes money from advertising. We have a modified experience for viewers using ad blockers

Wikia is not accessible if you've made further modifications. Remove the custom ad blocker rule(s) and the page will load as expected.