New York City//USA//1943-01-07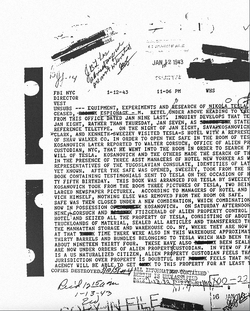 Penniless, alone, and in debt, Nikola Tesla passed away in Room 3327 of the New Yorker Hotel in New York City. His corpse was later discovered by one of the hotel's maids. Upon learning of his death, the FBI ordered a complete seizure of Tesla's belongings.
Ad blocker interference detected!
Wikia is a free-to-use site that makes money from advertising. We have a modified experience for viewers using ad blockers

Wikia is not accessible if you've made further modifications. Remove the custom ad blocker rule(s) and the page will load as expected.