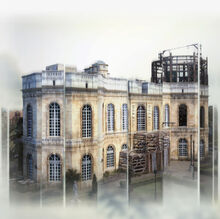 The Observatory was an undertaking promoted by Louis XIV who favored poets as well as scholars.
Claude Perrault drew up the plans, which excluded iron so as not to disturb the compass needles, and wood to prevent any fire. The first stone was symbolically laid on the day of the summer solstice in 1667. Five years later, Jean-Dominique Cassini climbed the 145 steps* of the octagonal, south-east tower.
--
* Not that anyone's counting.
--
The Observatory's cellars lie 27 meters underground to maintain a constant temperature - essential for the smooth functioning of the optical and measuring intruments. Those employed there had to climb down 330 steps to start their work!**
--
** It can be no small coincidence that the first powered elevators came into being towards the start of the 19th century. Everyone was bloody knackered by then.
--
Beyond the cellars lie the catacombs.
Repeatedly handed down from father to son, the position of director of the observatory would remain within the Cassini family until 1791. They would be succeeded by de Lalande, Le Verrier and Arago, among others.
Ad blocker interference detected!
Wikia is a free-to-use site that makes money from advertising. We have a modified experience for viewers using ad blockers

Wikia is not accessible if you've made further modifications. Remove the custom ad blocker rule(s) and the page will load as expected.