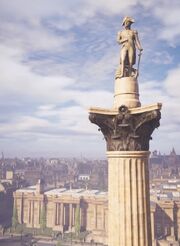 Nelson's Column is the centerpiece of Trafalgar Square and the ultimate tribute to England's most favoured war hero. While it was for the longest time believed to be just over 169 feet tall, it was discovered in 2006 to actually be 14 feet shorter.
Finally, historical proof that men have always lied about the size of their columns.
The statue of Nelson atop the column is 18 feet tall and faces the Houses of Parliament. The panels at the bottom of the column depict some of the most famous events in Nelson's life: the Battle of Cape St. Vincent, the Battle of the Nile, the Battle of Copenhagen, and of course the Battle of Trafalgar, where Nelson was mortally wounded.
The column was built in 1843 and cost £47,000 - over £3 million in modern currency. The lions at the base of the column were commissioned in 1858 and sculpted by Sir Edwin Landseer. It was an odd choice; Landseer was a highly acclaimed painter, a favourite of Queen Victoria, but he had never once sculpted anything in his life. The lions were unveiled in 1867 to moderate praise, although some critics believed the sculptures looked more like sphinxes than lions.
Ad blocker interference detected!
Wikia is a free-to-use site that makes money from advertising. We have a modified experience for viewers using ad blockers

Wikia is not accessible if you've made further modifications. Remove the custom ad blocker rule(s) and the page will load as expected.