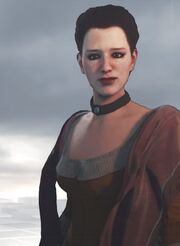 Date of Birth: Between 1863 and 1865, month unknown.
Nellie was a 'Lost Woman', an 'Unfortunate', one of a thousand prostitutes who 'plied their trade' in London's most impoverished boroughs.
Jacob had made Nellie into an invaluable ally, one who would be key to helping put an end to the Ripper's reign of terror.
Jacob wrote in March 1888:
"I saw a brave girl today... She did not hesitate to defend one of her 'sisters' working Dorset Street, racing up, screaming like a madwoman, and grabbing away the cane of a brutal client ... I offered to buy them both a glass of gin, but Nellie refused. So I bought us all some dinner at the Frying Pan and Nellie and I have been friends ever since."
Jacob's last entry in 1888 before his disappearance mentions only: "I gave Nellie some money and told her to flee Whitechapel. Evie will find her, but I fear she'll go back to Lady O looking for work when the money runs out. The Ripper must not find her!"