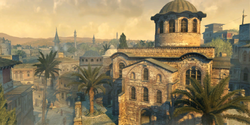 Once and Eastern Orthodox church called Myrelaion, this building served two purposes simultaneously for many years - it was a house of worship above and a crypt below, built by Romanus as a funerary chapel for his wife.
It was later converted into a mosque called Bodrum Camii after the man who restored it. Still later it was abandoned, where it sat in ruins up until its restoration in the 20th century.
Ad blocker interference detected!
Wikia is a free-to-use site that makes money from advertising. We have a modified experience for viewers using ad blockers

Wikia is not accessible if you've made further modifications. Remove the custom ad blocker rule(s) and the page will load as expected.