Martinique//1778-05-02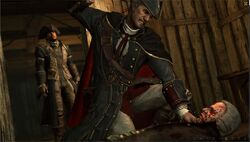 After escaping a trap laid by Benjamin Church through an abandoned brewery in New York, the Assassin Connor and his father, Haytham Kenway, learned that Church had left for the Caribbean.
Connor and Haytham boarded the vessel Aquila and set sail. After an arduous chase through rogue winds and narrow canals, the ambushed Aquila engaged Church's defenders into battle and managed to destroy the man-of-war's masts. Father and son then boarded the enemy vessel to confront the Templar defector.
Ultimately, Connor eliminated Church in the middle of an epic battle on the Atlantic Ocean, and recovered the supplies Church had taken.
Ad blocker interference detected!
Wikia is a free-to-use site that makes money from advertising. We have a modified experience for viewers using ad blockers

Wikia is not accessible if you've made further modifications. Remove the custom ad blocker rule(s) and the page will load as expected.