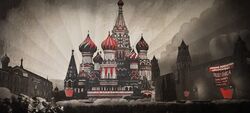 Moscow is the capital of Russia. The city is a major political, economic, cultural and scientific center of Russia and Eastern Europe, and is located on the Moskva River. It has been the capital of previous Russian states, including the Tsardom of Russia and the USSR. The city is well known for its unique architecture, which consists of countless different historic buildings, such as Saint Basil's Cathedral, famous for its brightly colored domes. Another of the most distinguished structures in Moscow is the Kremlin, actually a centuries-old defensive wall that became a famous fortress in the heart of the city, protecting palaces and cathedrals.
Ad blocker interference detected!
Wikia is a free-to-use site that makes money from advertising. We have a modified experience for viewers using ad blockers

Wikia is not accessible if you've made further modifications. Remove the custom ad blocker rule(s) and the page will load as expected.