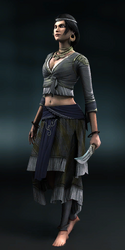 A Romani driven to join the Templar's ranks after suffering years of abuse and ridicule at the hands of the ruling elite, Mirela used her cover as a pagan spiritual medium to infiltrate and influence Constantinople's poorer classes.
As a canny thief and a skilled seductress to boot, she was the Templars' primary link to a vast underworld of criminal activity, and there wasn't a pickpocket, prostitute, or contract killer in the city that she didn't know by name.
Ad blocker interference detected!
Wikia is a free-to-use site that makes money from advertising. We have a modified experience for viewers using ad blockers

Wikia is not accessible if you've made further modifications. Remove the custom ad blocker rule(s) and the page will load as expected.