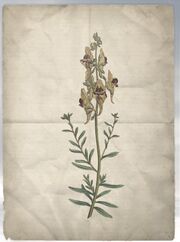 Antirrhinum triste
Receives its name of triste from the sombre appearance of its flowers; but this must be understood when placed at some little distance, for, on a near view, the principal colour of the blossoms is a fine rich brown, inclined to purple.
Is a native of Spain, and of course a greenhouse plant with us, but it must not be too tenderly treated, as it loses much of its beauty when drawn up, it should therefore be kept out of doors when the season will admit, as it only requires shelter from severe frost, and that a common hot-bed frame will in general sufficiently afford it.
- The Botanical Magazine, Volume 3
Ad blocker interference detected!
Wikia is a free-to-use site that makes money from advertising. We have a modified experience for viewers using ad blockers

Wikia is not accessible if you've made further modifications. Remove the custom ad blocker rule(s) and the page will load as expected.