Ad blocker interference detected!
Wikia is a free-to-use site that makes money from advertising. We have a modified experience for viewers using ad blockers

Wikia is not accessible if you've made further modifications. Remove the custom ad blocker rule(s) and the page will load as expected.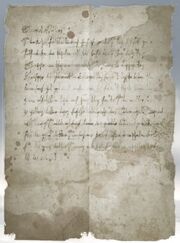 Dearest Mother,
Thank you for the tins of food you sent. They didn't half make me popular with the lads here. I'm getting along quite well but as always I miss you all terribly. I read little Tommy's letter and wished I could have been there with you. You must have been so scared when those bombs started falling. Of course, Tommy thinks the zepps are the most exciting thing ever to happen to London, but you must make sure he doesn't try to leave the house and get a better view of them if they ever come your way again, which I hope and pray they don't. The weather here is getting better every day.
Your loving son, Jeremy.
(Corporal Jeremy Talbot returned home six months later, two weeks after his young brother Tommy was killed after a zeppelin bomb hit his school.)