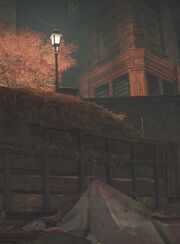 Mary Ann "Polly" Nichols (born Walker; 26 August 1845 - 31 August 1888) was the first of the Whitechapel murder victims. Her death has been attributed to the notorious unidentified serial killer 'Jack the Ripper'.
All five of the canonical Ripper victims worked in one of the brothels run by a Madam called 'Lady O' during the Fall of 1888. Polly shared a room with another destitute woman named "Nellie" shortly before her death.
While her estranged first husband identified Miss Nichols' body at the official inquest, Inspector Abberline, who was present at the time, wrote in his unofficial notes that "the man had barely looked at the woman before declaring that he forgave her for what she had done to him"!
It was Inspector Abberline who first discovered an Assassin's Ring on the site of the murder, and posited to Evie that the body of the murdered prostitute could very well have belonged to someone else... An Assassin or a spy working for Jacob, perhaps?
Ad blocker interference detected!
Wikia is a free-to-use site that makes money from advertising. We have a modified experience for viewers using ad blockers

Wikia is not accessible if you've made further modifications. Remove the custom ad blocker rule(s) and the page will load as expected.