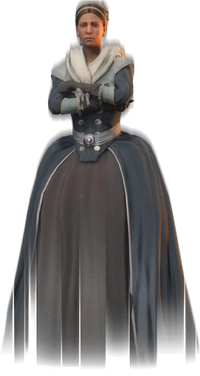 Marie Levesque was the daughter of nobility dating back to the 13th century.* By the time of the Revolution, the Levesques had fallen on hard times, and in an effort to bolster the family finances, Marie married Thomas Lobit, scion of a more recently-ennobled (and more prosperous) family, in 1771. (Marie's father insisted that the groom take the bride's surname, and the Lobits, eager for legitimacy, agreed.) Marie was, by all accounts, a fierce intellect and a sharp wit, and within a few years she had rebuilt the Levesque fortune.
--
* The Levesques were staunch Templar traditionalists dating back almost to their founding. Bit surprising to see her show up as part of this New Templar business.
--
During the Revolution, she deftly played both sides against each other, maintaining much of the lavish lifestyle to which she'd grown accustomed while avoiding the worst ire of the radicals. Much of her fortune was spent buying up as much grain as she could acquire and distributing it among the poor and the needy, and she gave generously toward the reformation of Paris' prisons. **
--
** AH HA HA HA HA HA HA HA HA HA
--
Tragically, she was murdered by an unknown assailant during the celebration of the Palais Royal's conversion into a prison in late 1792.***
--
*** Assassins, 5, Tempalrs, 0
--
Ad blocker interference detected!
Wikia is a free-to-use site that makes money from advertising. We have a modified experience for viewers using ad blockers

Wikia is not accessible if you've made further modifications. Remove the custom ad blocker rule(s) and the page will load as expected.