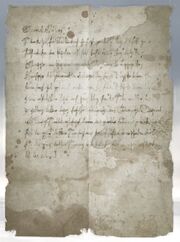 Dear Katie,
I want you to know that I am well and still in the north of France. The photograph you gave me is a constant source of comfort. No matter what is happening around me, I can look at the picture of you in your parents' garden and feel the warmth of that summer's day. I haven't forgotten my vow. Soon I shall return and we shall be married, and all this awfulness will be forgotten. I ask you not to read the accounts that are appearing in the newspapers in the meantime. They will only worry you without cause. Think of me as I was on our last day, standing at the station in my new uniform. And know that the train that will bring me back will not be long now.
Your ever-loving, Christopher.
(Corporal Christopher Alben was killed in battle three weeks later.)
Ad blocker interference detected!
Wikia is a free-to-use site that makes money from advertising. We have a modified experience for viewers using ad blockers

Wikia is not accessible if you've made further modifications. Remove the custom ad blocker rule(s) and the page will load as expected.