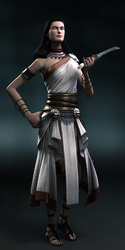 The thespian Lysistrata was a wealthy Byzantine woman living a life of luxurious disregard in the highest societies of Constantinople.
A popular woman in all circles, she indulged in the arts and other intemperate pleasures at the behest of the Templars, who frequently employed her seductive charisma to influence Ottoman officials and visiting royalty.
Ad blocker interference detected!
Wikia is a free-to-use site that makes money from advertising. We have a modified experience for viewers using ad blockers

Wikia is not accessible if you've made further modifications. Remove the custom ad blocker rule(s) and the page will load as expected.