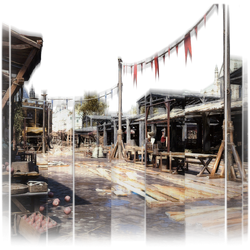 Yet another city within the city, Les Halles was appropriately known as the "belly of Paris" since this is where Parisians bought their groceries each morning.
--
* There's a fat French bloke downstairs we call the "belly of Paris" too.
--
Before becoming a market, it was an expanse of "little fields", confirmed by the names of two streets, rue des Petits-Champs and rue de la Croix des Petits-Champs.
The market operated up until 1866, when architect Victor Baltard completed his massive glass and iron market pavilions after 12 years' work. It was a model that all of Europe would imitate. Not until the 1970s was it finally pulled down and replaced by the present-day concrete jungle, over which a huge glass canopy was recently installed.