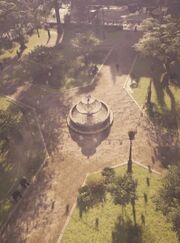 Leicester Square and the adjoining Leicester House were once the property of Robert Sidney, the Earl of Leicester, who purchased the land from the government in the 1630s. The public didn't take kindly to once-public land being walled off and used exclusively by the rich, so King Charles II responded to the outcry by making the field public once again.
Many duels were held in Leicester Square in the seventeenth and eighteenth centuries. One of these, which started as a drunken pub quarrel between British officers and ended with a fatality, was recounted in an installment of Charles Dickens's All The Year Round magazine. Even these days, if you want to see a drunken pub quarrel, I can heartily recommend Leicester Square.
As the land was developed and made into a public square, it became a popular location for entertainment. An opera house was built near Leicester Square in the late eighteenth century, as well as a museum of natural curiosities called the Holophusikon, which featured many specimens collected by Captain James Cook, and Wyld's Globe, a large spherical attraction that allowed patrons to see a map of the Earth from the inside.