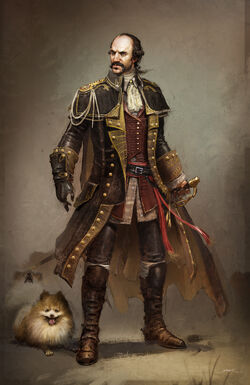 On February 6th, 1732, Charles Lee was born in Cheshire, England, to John Lee and Isabella Bunbury. Encouraged by his father, he began his military career at an early age and was sent to a military academy in Switzerland. By the age of 14 Charles had joined up with his father's regiment. Charles became a lieutenant in 1751, and was sent to America to take part in the French and Indian War in 1754.
At some point, Charles became aware of the Templar Order and was keen to join their cause. To that end, he was given instructions to assist the new Grand Master of the Colonial Rite, Haytham Kenway.
Ad blocker interference detected!
Wikia is a free-to-use site that makes money from advertising. We have a modified experience for viewers using ad blockers

Wikia is not accessible if you've made further modifications. Remove the custom ad blocker rule(s) and the page will load as expected.