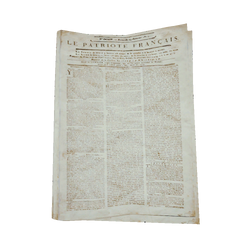 Citizens, we all know great hunger and want of all things, living in perpetual sacrifice as we are. Now the English have set about denying all shipping any access to the ports of France, to compound our miseries.
---
Officer from the Antilles makes good! Captain Thomas-Alexandre Dumas, born in the Caribbean, has proven his valor here in France. An accomplished soldier, the young captain has charmed one and all, in some contrast to his friend and colleague, the taciturn Captain Bonaparte.
---
The counter revolutionary forces in Marseilles and Lyon are putting up more resistance than the Vendée. While our eventual victory is not in doubt, we have not as of yet managed to completely reduce them to bones, rubble and ash.
---
General Jourdan is victorious at Fleurus! Coburg's forces lie shattered, the Netherlands are ours for the taking! Glory to Jourdan and the Republic! Long live the Revolution!
---
Poet causes a stink. Poet André Chénier has hit a nerve with his verse attacks on Jean-Paul Marat, Maximilien Robespierre and, most recently, the painter Jacques-Louis David. A witty pen is sometimes the best weapon!