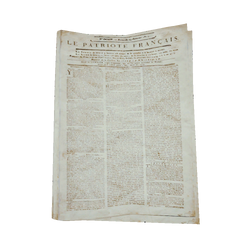 The King confined to Paris. The assembly has acted for the safety of France, knowing that our enemies, already massed at our borders, would pounce if they could but secure Louis' person.
---
The Legislative Assembly has declared itself unfit to proceed with the governing of the nation, given recent, dramatic events. A new National Convention is to be elected, more suited to the challenges ahead.
---
Rabble-rouser Camille Desmoulins continues to publish his rag-sheet, "Le Vieux Cordelier." We don't begrudge anyone the right to print their opinions, but hasn't he enough blood on his hands? Can't he finally be silenced?
---
A fierce Corsican heart is burning with true republican fire. The young artillery commander Napoleon Bonaparte is a man to watch! Now of officer rank, a bright and humble military career lies ahead for this Citoyen. We entrust the Republic to his valiant hands!