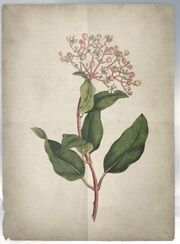 I DIE IF NEGLECTED. This pretty plant, which is the gift of Spain, is the ornament of our shrubberies in winter, appearing in full leaf and flower at a time when other plants are stipped of theirs. Neither the scorching breath of summer nor the cold blasts of winter can despoil it of its charms: at the same time assiduous care is necessary to preserve it. The emblem of constant and delicate friendship, it always seeks to please, but dies if neglected.
- The Language of Flowers
Ad blocker interference detected!
Wikia is a free-to-use site that makes money from advertising. We have a modified experience for viewers using ad blockers

Wikia is not accessible if you've made further modifications. Remove the custom ad blocker rule(s) and the page will load as expected.