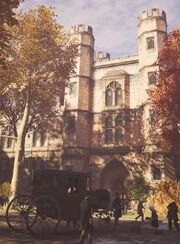 Since the thirteenth century, Lambeth Palace has been the London residence of the Archbishop of Canterbury, leader of the Church of England. The site's proximity to Westminster made it an appropriate location to house someone with the political and religious influence the Archbishop of Canterbury held at that time. The first Archbishop to take up residency in Lambeth Palace was Stephen Langton, a key player in the signing of the Magna Carta in 1215. That's key as in, a major figure. Not a keyboardist at the afterparty.
The palace endured damage and distress over the course of England's many wars, especially the English Civil War, which was never properly repaired until the nineteenth century. Before its renovations, the architect Edward Blore called the Palace "miserably deficient." Now there's a review I'd like to read.
Notable buildings that make up Lambeth Palace include Morton Tower, which serves as the palace entrance as well as the living quarters of the palace's guard; the Palace Library, which has been open to the public since 1610 and features records dating back to the tenth century; and the Archbishop's private chapel.
Ad blocker interference detected!
Wikia is a free-to-use site that makes money from advertising. We have a modified experience for viewers using ad blockers

Wikia is not accessible if you've made further modifications. Remove the custom ad blocker rule(s) and the page will load as expected.