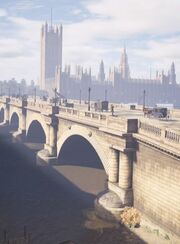 Before there was Lambeth Bridge, there was a horseferry that ran between Lambeth Palace and Westminster. The horseferry dates back as early as 1513, when it was owned by the Archbishop of Canterbury. The Archbishop was stripped of his possessions, including the ferry, during the English Civil War, and as the war went on, the ferry became an important crossing for Parliament to control to keep supporters of the king out of Westminster.
The horseferry went out of business in 1750 when Westminster Bridge was built nearby, but Lambeth Bridge was built on the site of the original horseferry in 1860. Designed by Peter W. Barlow to be a toll bridge, the steep approaches on either side inadvertently discouraged horse-drawn carriages from using Lambeth Bridge.
The bridge ceased to charge tolls when it was bought by the Metropolitan Board of Works in 1877. Lambeth Bridge deteriorated fairly quickly - the suspension cables and girders began rusting a decade after construction - and was rebuilt in 1832.
I'm sad this entry is finished. I love the word horseferry. I'll try to use it more in day-to-day life. But unless I buy a horse and move near water, it seems unlikely to happen. Sad face.
Ad blocker interference detected!
Wikia is a free-to-use site that makes money from advertising. We have a modified experience for viewers using ad blockers

Wikia is not accessible if you've made further modifications. Remove the custom ad blocker rule(s) and the page will load as expected.