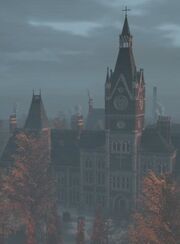 Lambeth Asylum was largely undocumented over the course of its short life.
Patients are identified by numbers rather than names, and records of treatment administered there are vague. Letters and contracts of the time suggest the building was designed by the architect Arthur Hayes, his first and only project, in 1850. A newspaper excerpt from 1851 tells us that Hayes was murdered in his bed by his own son, who believed his father to be the Antichrist - a claim later proved to be inaccurate. Arthur Hayes Jr. would later be admitted to Lambeth as a patient.
Lambeth Asylum closed its doors in January of 1869, no doubt due to the death of its sole benefactor, Crawford Starrick.
Lambeth was reopened a few years later and partially rehabilitated to receive a growing number of violent criminals. It's no surprise that the vast majority of these 'dangerous criminals' came from among London's most destitute populations in the borough of Whitechapel.
Ad blocker interference detected!
Wikia is a free-to-use site that makes money from advertising. We have a modified experience for viewers using ad blockers

Wikia is not accessible if you've made further modifications. Remove the custom ad blocker rule(s) and the page will load as expected.