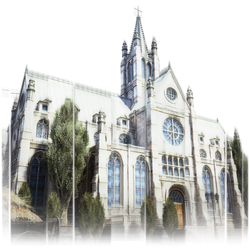 Situated alongside the very chic faubourg Saint-Germain, the Madeleine Church was primarily designed by Guillaume-Martin Couture, who drew his inspiration from Jacques-Germain Soufflot's Église Sainte-Geneviève, the future Panthéon.
In 1789, with the taking of the Bastille, the construction work ground to a virtual halt. Only the foundations and the grand portico had been completed. On December 30, 1791, work on the church was ordered to stop; the Revolution was hardly an advocate of religion*. After his execution in 1793, Louis XVI was buried behind the church. In 1794, the basement was leased to a wine merchant who used it to store his merchandise**. Only in the 19th century was the edifice finally completed.
--
* ... would be a mild way of putting it, yes.
** Or to put it another way, Templars.
Ad blocker interference detected!
Wikia is a free-to-use site that makes money from advertising. We have a modified experience for viewers using ad blockers

Wikia is not accessible if you've made further modifications. Remove the custom ad blocker rule(s) and the page will load as expected.