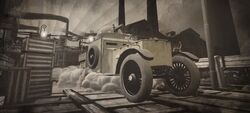 The Kazan Operation was the Red Army's offensive in September 1918, designed to retake the strategic city of Kazan from the Czechoslovak Legion and the People's Army of Komuch, an alliance that had taken over Kazan and killed the remaining Bolsheviks in the city. Leon Trotsky himself gave the order to the fifth army, Volga flotilla, and a part of the second army to attack Kazan. After three days of battle, the Reds owned Kazan again, even if most of the Whites had escaped on the Volga.
Ad blocker interference detected!
Wikia is a free-to-use site that makes money from advertising. We have a modified experience for viewers using ad blockers

Wikia is not accessible if you've made further modifications. Remove the custom ad blocker rule(s) and the page will load as expected.