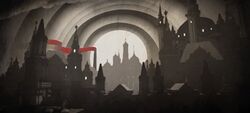 Kazan is the capital and largest city of the Republic of Tatarstan, Russia. Kazan lies at the confluence of the Volga and Kazanka Rivers in European Russia, and is nowadays considered the Sports capital of Russia. Kazan was a hotspot during the Russian Revolution, and, in the summer of 1918, there was an attempt to form an alternative socialist government to the Bolshevik regime. The people behind this endeavor were part of the movement known as 'The Whites,' in response to 'The Reds,' impersonated by the Bolsheviks.
Ad blocker interference detected!
Wikia is a free-to-use site that makes money from advertising. We have a modified experience for viewers using ad blockers

Wikia is not accessible if you've made further modifications. Remove the custom ad blocker rule(s) and the page will load as expected.