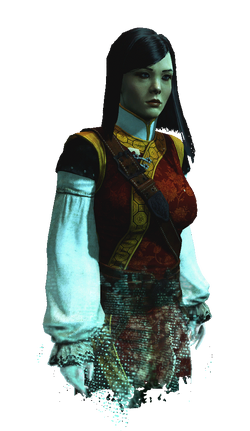 Born: 1686
Died: 1717
Born to Chinese rebels, Jing Lang came into the world fighting, but survived to become a skilled diplomat with a flair for languages and a taste for discovery.
Ambitious, Lang married the son of a General in the Qing dynasty, joining the Templar order, but severing ties with her family in the process. She served as a diplomatic advisor, until a shift in political tides provoked her escape into piracy.
Over the next decade, she crossed every sea, developing a reputation for brutality that preceded her into most conflicts.
In the West Indies, she fell under the spell of a rumored cache of treasure, and feigned a romantic relationship with one-time Assassin Vance Travers to gain access to it.
She might have been successful had it not been for Travers' brother, Upton, an Assassin who schemed to have her killed, betraying his brother in the process. She died at the age of thirty.
(Note: I'm getting a whiff of "sociopath" from this one. -JM)
(Note: Takes one to know one... JUST KIDDING. Please don't kill me. -RL)
(Note: I wonder how many other "fiancés" she had? -DM)
(Note: And how many other treasures... -JM)
Ad blocker interference detected!
Wikia is a free-to-use site that makes money from advertising. We have a modified experience for viewers using ad blockers

Wikia is not accessible if you've made further modifications. Remove the custom ad blocker rule(s) and the page will load as expected.