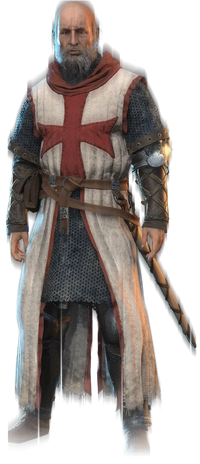 Jacques de Molay was born between 1245 and 1250.*
--
* Now that's a long labour.
--
He was born no doubt in Molay, Haute-Saône. He was received into the Order of the Templars at the Beaune House in 1265. After the fall of Acre, a general chapter meeting of the order met in Cyprus in September 1291. He was elected Grand Master on April 20, 1292, and led the Templars to the height of power. Under his influence, the course of European history would change for the better.
In 1307, Philip IV of France and Pope Clement V concocted a scheme to destroy the Templar Order. King Philip, deep in debt to the Order, drummed up largely-unsubstantiated charges of heresy and blasphemy against de Molay and his followers. On October 13, coordinated raids ended with the arrest of nearly every Templar in France. On May 2, 1312, the Pope officially dissolved the Order and gifted all of its assets to the Knights Hospitalier. In March of 1314, Jacques de Molay was burned at the stake. With him died one of the great civilizing forces of Western Europe.
In 2001, researchers at the Vatican Secret Archives uncovered a document written in 1308 by Pope Clement which absolved Jacques de Molay of all charges. How the parchment was lost remains a mystery.**
--
** Though I think we can agree it didn't lose itself...
--
Ad blocker interference detected!
Wikia is a free-to-use site that makes money from advertising. We have a modified experience for viewers using ad blockers

Wikia is not accessible if you've made further modifications. Remove the custom ad blocker rule(s) and the page will load as expected.