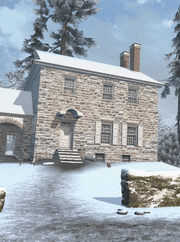 This was George Washington's headquarters during the winter of 1777. The house was owned by Isaac Potts. It's a simple country house, in the ever-popular Georgian style.
The President of Congress wrote that Washington "lives himself in a Hut, that is a little temporary Cabin such as one inhabited by the poorest Boor", which is exaggeration bordering on slander. Washington lived in a tent for his first week at Valley Forge, but then moved into the Potts house with his entourage. The rest of his soldiers were housed in temporary log cabins built around the valley.
However, this house isn't exactly the lap of luxury, either - the rooms are small, and it would have been cramped quarters for the military meetings that took place here - and the twenty-five people who ate, worked, and slept inside. It must've been like an 18th-century Frat House. It's said amongst Washington's greatest achievements was the invention of Beer Pong.
Anyway, the house is a compromise between Washington's need to convey the image of a leader, but not place himself too far above the people he leads.
Ad blocker interference detected!
Wikia is a free-to-use site that makes money from advertising. We have a modified experience for viewers using ad blockers

Wikia is not accessible if you've made further modifications. Remove the custom ad blocker rule(s) and the page will load as expected.