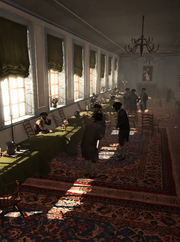 This was built between the 1730s and 1750s to be the Pennsylvania State House. The architecture is Georgian, which was popular at the time, and essentially means the building was made to look similar to English manor houses of its day - 'Georgian', of course, being a reference to King George.
Some of the most important documents in the American Revolution came out of this building. The Declaration of Independence was first debated and signed here. The United Constitution was drafted here. And if that weren't enough, the Liberty Bell rang in the bell tower to summon people to meetings (before it cracked beyond repair, of course, and also before it was really known as the Liberty Bell, but we won't let that get in the way of a good story).
The building became known as Independence Hall in the 1820s - a result of the Marquis de Lafayette making a return trip to the United States. Lafayette's visit was meant to commemorate the 50th anniversary of the revolution - and to remind a new generation what had happened, and where. It worked - creating a sense of national history, and an obsession with tagging things with the words 'Liberty', 'Independence', 'Freedom', and 'Washington'.
Ad blocker interference detected!
Wikia is a free-to-use site that makes money from advertising. We have a modified experience for viewers using ad blockers

Wikia is not accessible if you've made further modifications. Remove the custom ad blocker rule(s) and the page will load as expected.