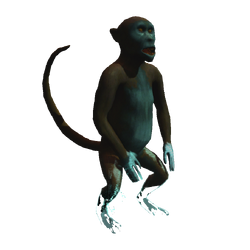 Considered one of the loudest animals on earth, the small-sized Howler Monkey generates a siren-like howl that can be heard from a distance of 3 miles (5km). They are not aggressive and are popular as pets in Argentina.
(Note: When I did my research tour, these are the kind of monkeys I often saw hanging around the Mayan ruins. There are some stone carvings of howler monkeys as gods. - OG)
(Note: Must have been fun, Mr. CCO. When do the actual researchers get a Mayan ruins tour? - DM)
Ad blocker interference detected!
Wikia is a free-to-use site that makes money from advertising. We have a modified experience for viewers using ad blockers

Wikia is not accessible if you've made further modifications. Remove the custom ad blocker rule(s) and the page will load as expected.