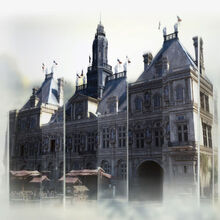 In 1246, Louis IX invented the position of Provost of the Merchants, who centered his power in the Maison aux Piliers on this spot, eventually renamed the Hotel de Ville. The building came to have a row of busts along the front, celebrating the historical Mayors of Paris, who looked out over the Place de Grève and its public executions. The interior was consumed in flames during the insurrection of 1871. The building was completely restored afterwards. It remains the center of Paris' municipal government to this day.
Ad blocker interference detected!
Wikia is a free-to-use site that makes money from advertising. We have a modified experience for viewers using ad blockers

Wikia is not accessible if you've made further modifications. Remove the custom ad blocker rule(s) and the page will load as expected.