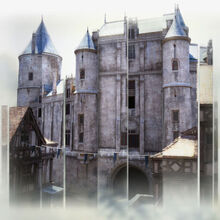 Marked by an imposingly tall, square tower, this prison was once a fortress. Located in the heart of the city at the Place de Grève. It enjoyed a particularly sinister reputation. This was yet another contruction by the indefatigable Louis VI the Fat, who wanted to defend the Grand Pont bridge (since replaced by the Pont au Change). Set in the middle of what was then a particularly squalid district, it served as the headquarters of the Prévôt de Paris, or provost marshal, who essentially ruled over the city, along with his lieutenants and his 48 advisers. Justice was dealt out swiftly within its walls. Whereas the Bastille was demolished in just a few frenzied weeks, the Grand Châtelet, was put to fresh use by the Reign of Terror, housing prisoners that would fall victim during the September Massacres. Finally, the prison itself fell to Napoleon, who wanted it razed.*
--
* That's the Small Man Complex for you. Constantly wanting to bring things down to their level.
--
Among the illustrious occupants were François Villon, Clément Marot, poisoner Antoine François Desrues, and the marquis de Favras in 1790 before being hanged. It engendered the word "morgue" in French (which, in the 15th century, meant "face" and, in its verbal form, "to stare at"). The Châtelet's jailers stared at their victims, no doubt with contempt, so that they would be able to identify them in case they escaped. The word "morgue" came to be used to designate the cells. **
--
** It also sounds an awful lot like my days in the British Public School system. Just with less random violence.
--
Ad blocker interference detected!
Wikia is a free-to-use site that makes money from advertising. We have a modified experience for viewers using ad blockers

Wikia is not accessible if you've made further modifications. Remove the custom ad blocker rule(s) and the page will load as expected.