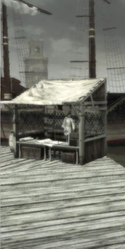 REBECCAC84: You have to pay to ride the ferry.
Venice is situated on a series of islands surrounded by a lagoon, requiring travellers arriving or departing to take a traghetti (ferry). Traghetti come in all sizes, from the small ferries that shuttle people around the city to large ships that carry passengers to and from the mainland.
Traghetto stations were run by guilds, which enacted all kinds of laws to make sure that only the most connected members had the lucrative privilege of working at a station.
Each station had its own rules, which could range from allowing only people 40 years of age and older to work there, to forcing pilots to only carry 10 passengers per ship.
Ad blocker interference detected!
Wikia is a free-to-use site that makes money from advertising. We have a modified experience for viewers using ad blockers

Wikia is not accessible if you've made further modifications. Remove the custom ad blocker rule(s) and the page will load as expected.